Door access readers allow employees, residents or vendors to access your building or property. These devices come in a few configurations:
Biometric readers
Keypad/reader combos, or
Standalone readers.
Most doors that are secured by an access control system operate via a:
Biometric scanner, such as a fingerprint or palm reader, retina scanner or facial recognition device
Exit buttons and magnetic or electronic door locks are also commonly used to secure the doors or gates.
Door access readers are installed at each point of entry that needs to be secured via credentials. These readers can come in different sizes and can be made of ABS plastic or even metal, which makes them extremely vandal-resistant.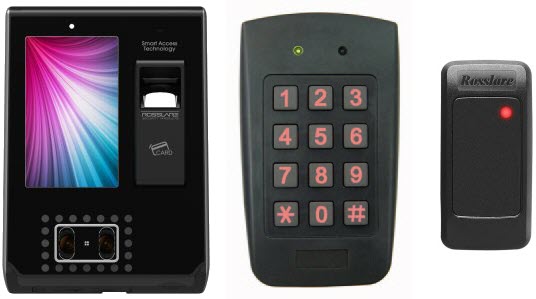 Door access readers generally incorporate one of three different credential technologies or a combination of them:
The most common type of reader will activate and grant access via HID or Wiegand 26 bit credentials.
Another common type of access device is a simple keypad which can be programmed to accept a code between four and six numbers.
A third type of access device is a biometric reader. This device uses a person's fingerprint in order to grant access to a door. These devices also come with a USB enroller, which allows administrators to register up to 5 fingers per user. Biometric readers are becoming more popular as pricing has become more affordable, plus there are the savings of not having to purchase or issue cards and key fobs.
Door access combination readers are becoming popular for a few reasons:
For reader/keypad combinations, customers enjoy the benefit of being able to program an access code for delivery personnel or short term guests without having to issue them a card or a key fob.
Locations looking for a higher level of security will commonly use a reader/biometric device and require both forms of authentication in order to grant access.
So whatever your security needs are, we can design a door access reader system to meet them. Contact Surveillance Technology today to set up a free site estimate or view the full list of our access control products.

Learn more about our successful door access card reader installs for local business in Tampa, St. Pete, Clearwater and surrounding areas: