Bullet cameras are one of the least vandal-resistant styles due to the nature of their mounting bracket, however, the commercial grade brackets are robust and not easily damaged. Bullet cameras are usually installed in locations where the lens needs to be turned more than 90 degrees or there is a need for long range night vision.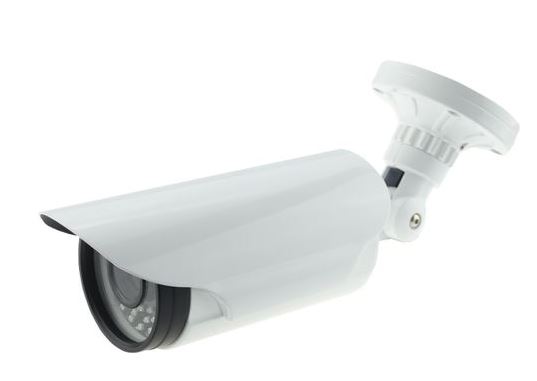 Some of the advantages of bullet style security cameras are that they offer a broad range of night vision options, ranging from 120 feet up to 250 feet. Bullet cameras also offer a wide variety of lens options. These cameras can have a fixed lens or motorized autofocus lens option.
Bullet style security cameras are available in 1080P through 4K resolutions.
Fixed Lens Version
Available in 1080P or 4K Resolution
3.6mm Fixed Lens
Sony 1/2.9″ Image Sensor
Vandal Proof Housing
Electronic Shutter
120 Feet of Night Vision
Digital Wide Dynamic Range
3D Noise Reduction
OSD Menu
Varifocal Lens Version
Available in 1080P or 4K Resolution
2.7-13mm Motorized Autofocus Lens
Sony 1/2.9″ Image Sensor
Vandal Proof Housing
Electronic Shutter
180′ Night Vision
Digital Wide Dynamic Range
3D Noise Reduction
OSD Menu
Varifocal Long Range Version
Available in 1080P and 5 Megapixel Resolution
5-60mm Motorized Autofocus Lens
Sony 1/2.9″ Image Sensor
Vandal Proof Housing
Electronic Shutter
250′ Night Vision
Digital Wide Dynamic Range
3D Noise Reduction
OSD Menu
Varifocal Long Range Version
Available in 1080P and 5 Megapixel Resolution
5-90mm Motorized Autofocus Lens
Sony 1/2.9″ Image Sensor
Vandal Proof Housing
Electronic Shutter
250′ Night Vision
Digital Wide Dynamic Range
3D Noise Reduction
OSD Menu
Learn more about our successful surveillance camera installs for local businesses in Tampa, St. Pete, Clearwater and surrounding areas: