A security camera system with a Digital Video Recorder (DVR), is a critical tool to help protect businesses and communities from crime and vandalism. These advanced security camera systems with DVRs have the ability to record, store and analyze video footage, providing valuable visibility into the activities at your business or property.
A traditional DVR security system will simultaneously record multiple channels of security cameras at once, up to 16 channels per DVR. We install both network and digital surveillance systems that allow you to view the feeds via PC, smartphones and other devices, and, even better, some digital systems are now available in UHD and 4K resolutions. This means optimal security for your property at all hours of every day. Contact us to get a free estimate for your property!
With the utilization of H.265 compression DVRs can also store large amounts of video footage for future use, which means businesses and communities can keep records of past incidents for extended periods of time.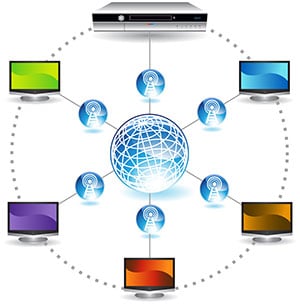 Want a way to record multiple cameras?
DVR security systems are the answer
Call us (727) 791-7990
Hybrid DVR Security Systems
The traditional DVR security system that's been around for the last 20 years or so has been able to record CCTV feeds, but we are now able to offer hybrid DVR systems that can also incorporate both IP and CCTV technologies. These systems can also accommodate a range of resolutions from 960H up to 4K / 8 megapixel. Hybrid DVR security systems are available in a variety of sizes, generally from 4 to 16 channels, storage capacities, record resolution and display resolutions.
There are many different qualities of each, and some will not give you the same capabilities or protection as others. Let our surveillance security system experts help you figure out which will do what you're looking for, contact us to set up your free consultation.
Many business surveillance systems include multiple types of cameras, for instance they may have CCTV cameras set up in obvious locations and have some higher-technology IP cameras set up in key areas to monitor and report intrusions or suspicious activity. If you are in need of a specialized Hybrid security camera system contact us, one of our security experts is standing by to help.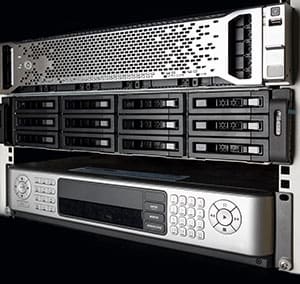 If your surveillance system currently is operating with only one type of camera, you may be interested in installing a Hybrid DVR along with cameras that can enhance the system's performance. Either way, our staff will happily answer your questions in terms of DVR surveillance systems and cameras to help you get set up with the optimum protection for your property.
Network Video Recorder Systems
A network video recorder system, or NVR, is generally used for IP security camera systems, and is a standalone unit. NVRs can be based in either Linux or Windows, and can offer superior features to that of the DVR surveillance system. We can install a network video recorder for your property that can handle up to 32 channels, complete with built-in POE switch, advanced analytics, in-unit storage, playback, live viewing and remote viewing from web-based or handheld device applications.
The biggest advantages of an NVR IP camera system are: full digital recording, higher frame rates at the highest resolutions and advanced analytics. We even carry brands that allow CAT 6 cable distances of up to 750 feet. IP cameras, which are utilized with NVR's are available in a variety of styles such as Turrets, Bullets, Domes and PTZ's.
With over 50 years of combined experience under our belt, some of the highest certifications in the industry, and the capacity to handle any size job with our own fully professional staff — we never subcontract out — STI is the clear choice when you're looking to implement a surveillance system. Contact us to set up your free estimate and our staff will help you find the perfect system for your needs.
Remote Access
Regardless of what digital camera security system you choose, it's important to know most offer the ability to remotely access video footage. This allows owners to access live video or recorded footage from anywhere and can provide peace of mind, knowing that their property is being monitored even when they are not present.
We offer all types of network and
DVR security systems
Call (727) 791-7990
We will install a DVR security system in Tampa, Clearwater, St Petersburg as well as surrounding cities.
Unsure what sort of DVR security system to install on your property? Learn more about our CCTV consultant and access control design services >