High-tech business surveillance systems will protect your property from potential burglaries, fraudulent accusations or claims, and theft. We provide custom surveillance systems tailored to meet your exact needs; contact us to set up your free estimate.
Want superior protection for your property?
Get a free estimate now
Call (727) 791-7990
Your property could be at risk as you are reading this page. Hopefully you haven't already experienced the tragedy and massive setback of a robbery, or a lawsuit over something that didn't happen; but if you have, you probably understand the importance of security now more than ever. If you haven't gone through something like that yet, do yourself a favor and prevent it from ever occurring. Call us to set up your business surveillance system and let us keep you safe for life.
We offer free estimates on all of our services, including: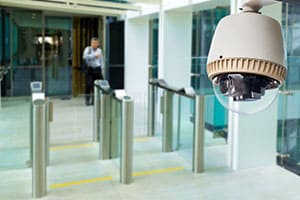 Design Business Surveillance Systems
Our staff are licensed surveillance security systems experts, and have some of the top certifications in the industry. With a combined total of over 50 years' experience on our team, your security will be in great hands when you trust the design and installation of your business surveillance systems to our staff.
We have the experience, the knowledge and the skills necessary to listen to exactly what you're trying to achieve, inspect your property for all possible entry points, security lapses, and hidden areas, and then design the surveillance system that will best protect it from all of the above and more.
Where you may see one camera as necessary, our staff have the trained eye to look at it and see potential blind spots or other weaknesses that you don't want to leave open. Whether you'd like to implement hidden camera systems, bullet-style cameras in the wide open, domed cameras to catch it all, or a combination of different security cameras, our team can design the perfect custom system for your property. Contact us now to get your free estimate!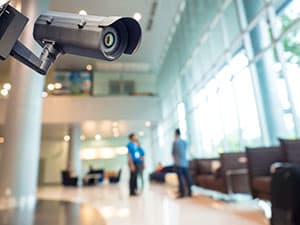 Installing Business Surveillance Systems
The commercial grade surveillance security systems we install are superior to anything you would find in a store, or a ready made kit you might purchase. The quality of that equipment is inferior in the extreme and in most cases those same retailers use commercial grade surveillance systems to protect their assets and not the kits they sell.
If you are serious about protecting your business, do not purchase security cameras or surveillance video systems from stores, contact us.
We have a full understanding of the business surveillance equipment that we use, and test all of it beforehand. You will have full confidence in the quality of not only the technology that we use, but our knowledge of it.
When our staff installs a business surveillance system on your property, it will be to the highest of standards. Our company holds an electrical contractors license in addition to multiple security certifications. We know exactly what we're doing on all property types of all sizes. With over four decades of experience, we are prepared to install any types of security or surveillance equipment in any location.
Once the installation is complete, we will train you and your staff, as applicable, on exactly how to use the newly installed surveillance system. If you have any questions in the future, or forget how to use it, we will happily provide phone support at no charge to help you with it.
Our business surveillance systems
Are second to none — call now
(727) 791-7990
We design and install business surveillance systems in Tampa, Clearwater, St Petersburg.
Hear what our customers have to say about our work installing Business Surveillance Systems in Tampa: