Door access readers are installed at each point of entry that needs to be secured via credentials. These readers can come in different sizes and can be made of ABS plastic or even metal which makes them extremely vandal resistant.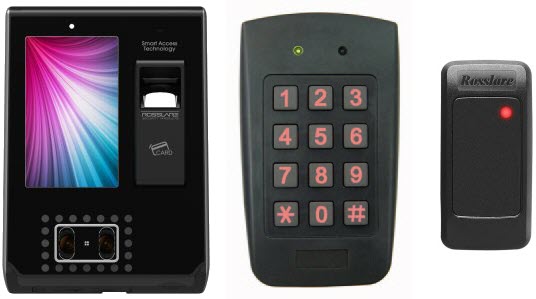 Door access readers generally incorporate one of three different credential technologies or a combination of them. The most common type of reader will active and grant access via HID or Wiegand 26 bit credentials. Another common type of access device is a simple keypad which can be programmed to accept a code between four and six numbers. A third type of access device is a biometric reader, this device uses a persons finger print in order to grant access to a door. These devices also come with a USB enroller which allow administrators to register up to 5 fingers per users. Biometric readers are becoming more popular as the pricing has come down along with the over all saving of not having to purchase or issues cards and fobs.
Combination readers are also becoming popular for a few reasons: For reader / keypad combinations customers enjoy having the ability to program an access code for delivery personnel or even short term guest without having to issue them a card or a fob. Also, locations locking for a higher level of security will commonly use a reader / Biometric device and require both forms of authentication in order to grant access.
So whatever your door access security needs are we can design a system to meet your security needs. View the full list of our access control products >