Access control systems can be used at all entryways including doors, vehicular gates, pedestrian gates and telephone entry systems. From card readers to video door phones and fingerprint scanners, we have the full spectrum of access control systems available. Call and get a free estimate for your property!
Looking to install access controls?
We've got any type you may want
Call (727) 791-7990
Access Control Systems
There are many choices between access control systems, for both internal and external uses; some of our most popular are: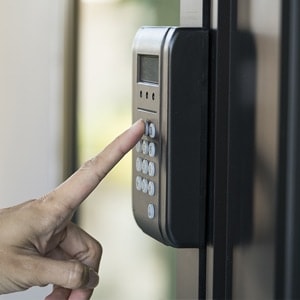 Gate entry systems
Proxy card readers
Exit buttons
Depending on the complexity of the system you are looking for, our staff will recommend different solutions for your security. There are basic, semi-intelligent and intelligent card readers, that break down as follows: the basic variety only do simple functions such as accepting a code or reading a card. That data gets transferred to a controller that decides what to do with it.
Semi-intelligent access control systems will be able to control the lock and exit button on the door, but they don't actually make the decisions based off the credentials, the controller still does. The intelligent models have the memory and processing power to make the decisions on their own, and also control the door's locks, etc.
There are also video door phones that allow you to see who is requesting access and to communicate with them from indoors, and various models with lesser or more advanced features. These are great for businesses that do not expect much traffic, or for homeowners who would like to know who is there before opening the door.
For gated entryways, we have a number of telephone entry systems ranging from 100 entry codes to up to 10,000 residents or users. No matter the size of your property, we have the equipment necessary to make it secure!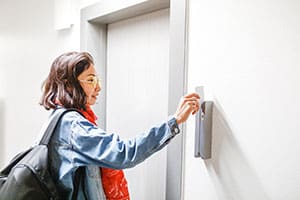 Our staff can also install the basic door access controls such as electric locks, exit buttons, magnetic locks and more. There can be a lot to choose from, but you don't have to figure it out on your own. Call to set up your free consultation and we'll help determine which access control features would best benefit your property.
Access Control Company
Having over 15 years of specialization in access control, business surveillance and all other aspects of surveillance security systems, our team is extremely prepared to handle any job you may need done. No matter the size and scope of your property, we have the security solutions you are looking for, and the credentials to do high-quality installations.
Our staff will help you understand exactly how to use your new system and will even do an over the phone refresher if you need some pointers after you start using it. The installations we perform come with a two year warranty on all parts and a one year warranty on all labor, and we even offer a five-year warranty, if you prefer.
We believe that our extensive knowledge of the industry, our equipment, our experience and our superior customer support set us apart from the other surveillance companies around, and invite you to give us a call to see for yourself.
We can answer all your questions on
Access control systems
Call (727) 791-7990
We specialize in designing and installing access control systems in Tampa, Clearwater, St Petersburg as well as surrounding areas.