The hand held or tripod mounted thermal vision camera is a quick deployment system design for temperature monitoring of personnel and equipment. The high temperature alert system send users real time notification when a threshold is reached. Thermal cameras are perfect for finding hot spots or abnormal temperatures on people or objects. Viewing temperature variations in real time using thermal technology is used at airports, seaports and by fire departments worldwide.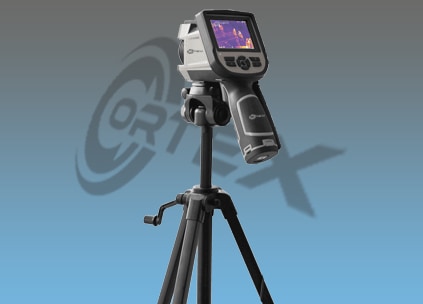 Design for short range distances up to 15 feet.
This technology allows for viewing in lit or completely dark areas without illuminators. Thermal cameras are perfect for health monitoring, fire and heat detection, and petrochemical applications. This system uses thermal energy generated at an atomic level to create a video images.
Main Features
Thermal image viewing in any lighting
Special algorithms for body temperature monitoring
Abnormal temperature alarm
Fast and easy setup
On-board Color touch LCD screen
Uncooled Micro Bolometer sensor
Automatic background temp correction and interference prevention
Lens: 10mm narrow view lens (optional lenses available)
Complete accessories kit (Including rechargeable battery)
Thermal camera resolution: 384×287 px