License plate recognition cameras are in the bullet family, however, their specific purpose is to capture license plates only. License plates cameras, or LPR's, have multiple levels of technology that allow them to successfully capture a tag on vehicles moving up to 50 mph at a distance of 100 feet, even at night. However, please be aware that there are dealers / installers in the marketplace that will use a camera with a long range lens, zoom it in tight and increase the shutter speed. This approach will work during the day but it will not work at night due to the reflective properties of the plate.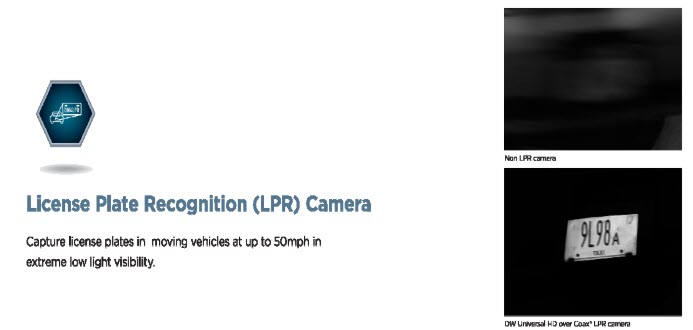 LPR cameras should always be accompanied by a second, high definition broad view camera in order to see the vehicle itself and to capture video footage of the event associated with the tag.
Ask any police department community officer and they will tell you how important and useful it is to have a license plate camera for any investigation.
Bullet style security cameras are available in both 1080P and 4K resolutions.
License Plate Recognition Camera Specifications
2.1 Megapixel 1080P 4K Resolution
6-50mm Varifocal Lens
CMOS 1/3″ Image Sensor
Vandal Proof Housing
Electronic Shutter
115 Feet of Night Vision
Progressive Scan

Learn more about our successful license plate recognition camera installs for local businesses in Tampa, St. Pete, Clearwater and surrounding areas: