If you require network cabling services to get your business communication system set up and running, give us a call. We'll come out to do a free inspection and figure out the most efficient and cost-effective way to set up your network, telecom or fiber optics cables. You'll get the best of both worlds with us: quality and price.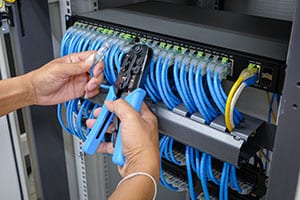 We can run and install all
Types of network cables
Call (727) 791-7990
Professional Network Cabling Services
When your property is being established, or retrofit, with high-speed data cables, fiber optics, or telecom cables, it's important to get a quality and reputable network cabling service to install them for you. Your life will be immensely easier once the installation is through, but if it is done incorrectly, you could have a nightmare on your hands.
When you call us for network cabling services, we send one of our trained staff out to your property, never a subcontracted worker. Our employees are all highly experienced in the field and we hold an electrical contractors' licenses, so we are fully prepared to handle any services your property may need during the course of the cabling.
We are able to install the following types of network cables in your property:
Data cables
Fiber optics
Cat 3 cables
Cat 5 cables
Cat 6 cables
LAN cables
High speed data cables
Telecom cables
Voice cabling
Telephone cabling
If you'd like a free estimate on how much it will cost, or aren't sure which type of network cabling services your property requires, give us a call. One of our staff would be happy to answer your questions and help you out. We will also try to give rough quotes over the phone if you prefer, want to know more? — give us a call!
Fiber Optics Cabling
Installing fiber optics cables are one of the most common network cabling services we offer, as they are highly useful in many areas. Whether for long-distance telecommunications, or to hook up different parts of your building(s) with high-speed data connections, fiber optic cables are the best you can get in terms of performance and speed. Give us a call to set up a free estimate on getting fiber optics cables in your business!
Telecom Cabling
Telecom cables can be set up with copper, aluminum, or fiber optics, and depending on your layout and your budget we'll help you decide which one will be best for your needs. If you are trying to connect computers on a network, telephones throughout the property, or other electronic devices, we offer the network cabling services you need!
Data Cabling
From ethernet cables to coaxial cables and telecom cabling, we can provide your property with the data cabling it needs to smoothly operate, problem-free, day in and day out. Give us a call to set up a free consultation and we'll help you establish the best network cabling service for your property!
Need your property to have its
Network cables set up?
Call (727) 791-7990
We provide network cabling services in Tampa, Clearwater, St. Petersburg and the surrounding locations.