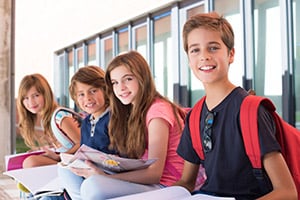 A growing concern among educational institutions today is safety. Unfortunately, violence has become a serious problem in K-12 schools, colleges and universities. Providing a safe and secure learning environment is one of the most tremendous challenges facing our school system.
Protecting the well-being of the students and faculty is a huge responsibility that school officials take very seriously. Unfortunately, with the up rise of student violence, vandalism, burglary, and theft, educational institutions are faced with extreme pressure to do more to protect their students and staff.
Thankfully, there are ways to protect your school from increasing threats, one of which is installing security cameras and surveillance systems with access control. School Security Cameras provide an effective measure to enhance the security of school premises and deter crimes. Additionally, access control systems can be used at all entryways including doors and pedestrian gates along with telephone entry systems at vehicular gates for added security. From card readers to video door phones and fingerprint scanners, Surveillance Technology has the full spectrum of access control systems available and will help you determine which technologies would best benefit your campus.
Benefits of School Surveillance Systems
In an effort to keep schools safe and secure, many are turning to school security cameras and surveillance systems. Implementing video surveillance in schools can help administrators and officials easily monitor the traffic of students, teachers and visitors, creating a safer, more secure campus.
In the presence of an emergency, every second matters. Having surveillance cameras in your school will allow administration to quickly identify and locate a threat and then immediately notify authorities and staff. A school surveillance system will improve communication and coordination while also empowering the faculty.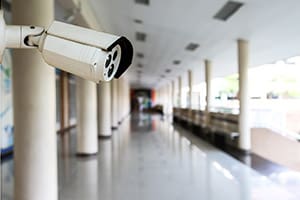 Additionally, other benefits a school surveillance system include: deterring potential perpetrators thinking of committing a criminal act, preventing or deterring against bullying, vandalism, and intruders. Surveillance systems also provide peace of mind to the students and their parents who are more concerned than ever before. School security cameras provide the best solution to supervising your school and those in it.
Cost-Effective Security & Surveillance Solutions
Educational institutions are confronted with numerous challenges in today's society. Surveillance Technology knows that protecting and guarding the security of your students and staff is your number one priority and we are proud to offer high-quality and reliable security cameras to help create a safer environment at school.
There is more pressure than ever to provide a safe and secure learning environment for students and faculty, but within a budget. Surveillance Technology understands those challenges and is dedicated to providing cost-effective security and surveillance solutions for a safer school that fits your needs and budget.
Having over 15 years of specialization in access control, business surveillance and all other aspects of surveillance security systems, our team is extremely prepared to determine the perfect solution for your school. To learn more about how to protect your school and restore your peace of mind, call Surveillance Technology.