Door access controllers are available in a multitude of configurations and serve as the brains or gate keepers for all of the devices connected to them.
Door access controllers are responsible for controlling the locking devices on the door, and make their decisions based on the programing of the system along with the credentials. There are also video based controllers that allow you to see who is requesting access and to communicate with them from indoors, and various models with lesser or more advanced features.
In most cases door controllers can accommodate as little as two doors with expansion capabilities of up to 2000 doors. These controllers can be configured to accept up to 100,00 users with a 500,000 event history database. Additionally, multiple levels of security can be implemented. For example: Some employees may have access 24/7 while others may only have access Monday through Friday from 8am to 5pm. Temporary access can also be set up for service personal, short term guests, or entries could be left unlocked during business hours. All of these settings and more can be applied not only to users, but to each door independently.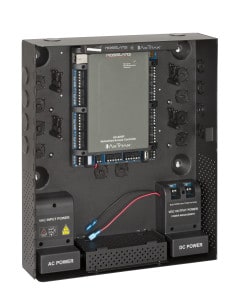 Door access controllers are normally connected to door access readers, keypads or even biometric devices which will scan the users credentials and grant or deny access accordingly. The doors are generally secured by electromagnetic locks or electronic door strikes.
Surveillance Technology offers a variety of controllers in order to best suite your specific needs. After an initial consultation and site visit, our engineers will design the best system for you considering both your needs and budget.
View the full list of our access control products >
Learn more about our successful access control installs for local businesses in Tampa, St. Pete, Clearwater and surrounding areas: