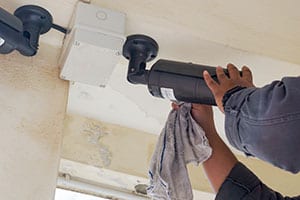 Surveillance equipment, Access control system & Security camera maintenance plans
Keep your equipment running properly with continual equipment maintenance.
At Surveillance Technology we believe that your surveillance equipment or access control system will perform better and last longer with regular inspection and maintenance. In the world of surveillance, a properly maintained security camera and lens assembly can identify who is a perpetrator and who is not. For access control systems, if they are not properly maintained a perpetrator has a much greater chance of breaking through the protected areas. Surveillance equipment, access control system and security camera maintenance plans are also a great way to protect your initial investment and gain peace of mind that the system is working as intended!!
Services Provided
DVR Surveillance Systems
NVR Surveillance Systems
Access Control Systems
Telephone Entry Systems
Service Frequency
Platinum – Monthly
Gold – Quarterly
Silver – Bi-Yearly
Bronze – Yearly
Custom – Tailored for your environment
Surveillance Technology will help in choosing the maintenance plan that is best suited to ensure that your surveillance equipment, access control system and security cameras work as they are intended to day after day. Pricing varies and is determined by: Services Provided, Service Frequency and Amount / Type of equipment to be serviced.
Please feel free to Contact Us today and one of our access control specialists in Tampa, Clearwater or St Petersburg will be happy to answer your questions.