Gate access control, also known as gate entry systems or vehicle access control, makes security much easier in a large facility or complex. Gate access control systems usually consist of a telephone and/or video entry system, as well as gate operators and/or barrier arms.
Need access control
For your gated entryway?
Call (727) 791-7990
Gate Access Control Systems
Our gate access control systems can be built with any of the following components: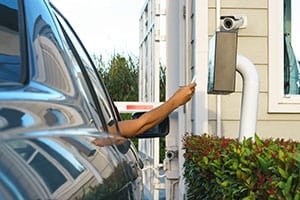 Whether you have a small private community, exclusive office building, or a large sprawling residential or commercial complex, we have the gate access control system for you. Let one of our access control specialists help point you in the right direction for your property's size and level of security required, and we'll take care of the rest!
Gate Access Control Installation
When it comes to installing new gate access control systems, no other local service compares. Our surveillance security systems service has been in business for over 20 years now, and our staff have over four decades of experience in the industry. With some of the highest certifications in the industry, and a thorough knowledge of all the equipment we use, our technicians are your best choice when looking for new security measures.
The only people who do any work for our company are our very own employees — never any subcontracted technicians — and we are proud to say that we hold electrical contractors' licenses and can perform any needed work while installing your gate access control system.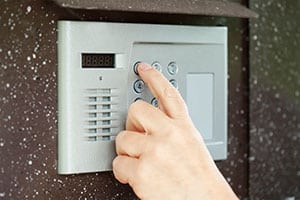 Our staff have full liability coverage and workers' compensation, and can be bonded if necessary, so your property will be well-taken care of. We test all of the equipment we install beforehand to ensure it is working properly and is of the quality standards we demand on every job we do.
We are passionate about what we do and are happy to answer any questions you may have. If you're considering buying or installing any type of gate access control systems, we strongly urge you to give us a call first and foremost. The kits you can buy in stores or from most online distributors are inferior in the extreme, and will not provide the level of service you need from them.
Let one of our gate access control specialists consult with you to help you navigate through the many options we have and find which will best meet your needs and your budget. Our consultations are always free, and we think you'll be quick to see that we're not your average surveillance company! So don't wait, give us a call today.
Looking to install custom
Gate access control?
Call us (727) 791-7990
We provide the installation of gate access control systems in Tampa, Clearwater, St Petersburg, Palm Harbor and the surrounding cities.