Door access control, sometimes referred to as pedestrian access control or a door entry system, provides added security to protect your business or community. The main components include door access controllers, which can be paired with a telephone and/or video entry system, and usually some sort of door access reader. Door access readers can operate with an RFID chip, most common in card readers, or with a key fob or biometric scanner such as a fingerprint reader, palm reader, retina scanner or facial recognition device. Magnetic or electronic door locks are also commonly used in door access control. These system are often database driven allowing management to easily add or remove users, track access to any door and create permission for who and when a person or persons can access a specific door.
With an easy-to-control access control system managing your entryways, you can continue to run your business without worry. Contact us to get a free estimate on the access control system that's right for you.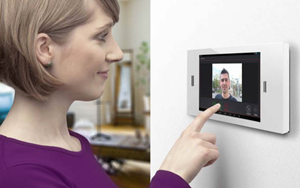 Looking for tighter control of your property?
Call for a free estimate!
(727) 791-7990
Door Access Control Systems
We have door access control equipment for both indoor and outdoor use, as simple or as complex as you'd like, including:
Door access readers

Biometric readers

Fingerprint readers
Palm readers
Retina scanners
Facial recognition devices
Video entry systems are a great way to see who's trying to get in without the inconvenience of stopping production. If you've got an area that requires visitors from time to time, ask us which of our video door phones could best benefit your building!
Fingerprint readers are the ultimate in added security. When you've got a confidential area, dangerous substances, or other need for top-level security systems, we can setup a card reader that also requires a pin and/or a fingerprint. Contact us to get a free estimate on installing fingerprint scanners for your door access control system.
Card Access Control Systems
Proxy readers or access card readers are a great, simple way to secure your property without much added expense. If you're looking to make your building, or a particular area, only accessible to authorized persons, card access control systems are a simple and cost-effective way to go.
When it comes to installing door access control systems, or any other aspect of business surveillance equipment, our company should be the first one you call. With over 50 years of combined experience, our technicians have the specialized and extensive knowledge you want working on your property.
When keeping your facility, your information and your business safe is of top priority, our team is the one to get it done. Our staff have certifications higher than most in the industry, and we are also licensed as electrical contractors, meaning we can handle the entire job from start to finish, no matter the magnitude or scope.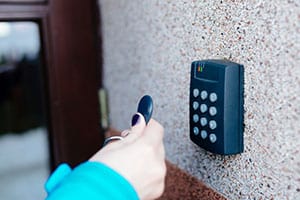 Our customer support and post-training support simply can't be beat — we take great pride in caring for our customers and ensuring they are getting the most from their new security systems. All of our door access control systems come standard with a two year warranty on all parts and a one year warranty on any needed labor, but we also offer a five year warranty.
If you've got any questions as to which access control system might be best for you, give us a call. Our knowledge of the products and equipment on the market is thorough and extensive, and we can answer any questions you may have.
A note of warning is that the products you might find in the stores, including ready-made kits, are extremely out-of-date and inferior in quality. If you're thinking of purchasing one of those, please call us, for your own sake. You'll likely end up regretting it in a serious way if you don't. That being said, we offer free consultations on all of our services and would be happy to meet up with you to help you pick out the perfect system for your property! Contact us to find out more.
A door access control system
Will give you increased security
Call (727) 791-7990
We install door access control systems in Tampa, Clearwater, St. Petersburg, Palm Harbor and surrounding areas.